Pridhvi Yelamanchili, MD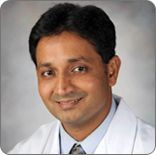 Pridhvi Yelamanchili, MD
Pridhvi Yelamanchili, MD, joined AZ Heart Doctor at the beginning of 2015. He is Board Certified in Internal Medicine, Cardiovascular Disease and Intervention Cardiology, and has additional training in advanced heart failure and heart transplantation, echocardiography, cardiac MRI and peripheral vascular ultrasound.
He performs various coronary, peripheral arterial, venous and structural heart disease interventions. Dr. Yelamanchili has completed training in cardiology and advanced heart failure and heart transplantation at the Ochsner Clinic Foundation in New Orleans, LA.
He did advanced training in Echocardiography at the University of Alabama at Birmingham, AL and in interventional cardiology at the University of Texas Health Sciences in San Antonio, Texas. He has been published in various scientific journals in several cardiovascular specialties in several cardiovascular specialties and has trained extensively in cardiovascular disease.
Dr. Yelamanchili's patients appreciate his attention to detail, willingness to listen and understand their problems as well as being easily reachable in case of any questions. He cares for his patients by providing cardiac management up to date with the latest advances in cardiovascular medicine, stressing the importance of prevention.